Our Process
At Pinnacle Wealth, we believe everyone should be able to live the abundant retirement they've always wanted.  Our team of professionals are dedicated to helping you create and implement a well though-out, written strategy designed to help you address your financial needs and concerns for this next phase of your life.
Vision Driven Retirement Road Map Process™ 
Vision Driven Retirement Road Map Process ™ is a customized written strategy designed to
help get you to and through retirement by focusing on 6 key areas of your financial life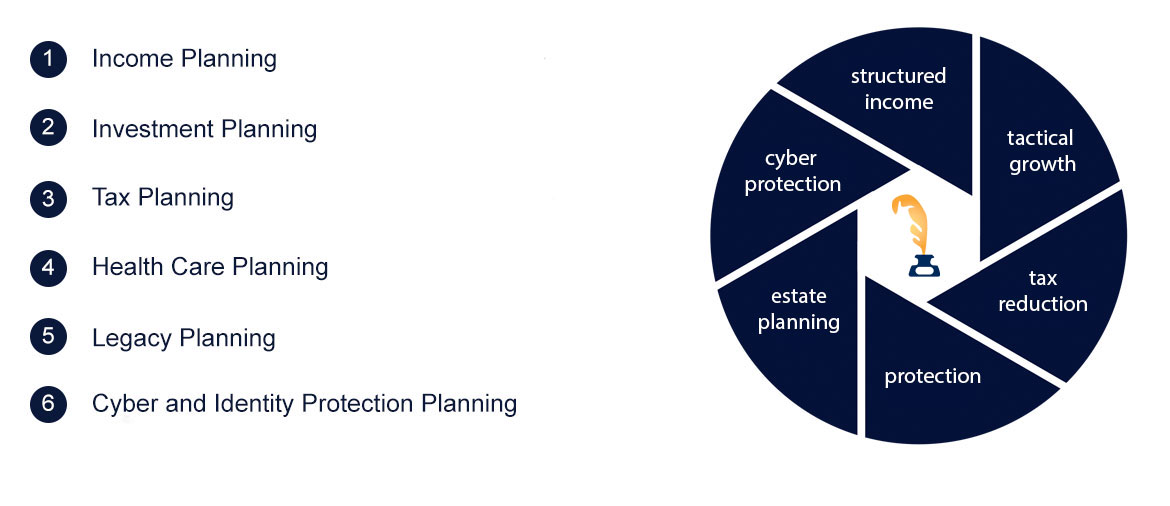 Income Planning
Our goal is to help ensure your expenses can be paid month-to-month with reliability and predictability for the rest of your life.  Research indicates that having a plan tends to lead to a higher degree of confidence in retirement.  Our plans typically include:
Social Security maximization
Income and expense analysis
Spousal continuation planning
Back testing of your plan based on math and science, designed to help ensure the highest degree of stability and success
A numerical factor that we call- The Confidence Co-Efficient
Investment Planning
Once your Income Plan is established and optimized, we will create an Investment Strategy that is perfectly matched and synchronized with your income plan.  This typically includes:
Assessing your personal risk and volatility tolerance
Adjusting your portfolio to reduce fees
Volatility control strategies
Evaluate various ways to reduce risk while still working towards your goals
Longevity protection
Tax Planning
Any comprehensive retirement plan needs to include a strategy for decreasing both current and long term tax liabilities.   This typically includes:
Assessing the taxable nature of your current holdings
Assess all potential tax reduction strategies for your specific situation
Strategize ways to include tax deferral or tax-free money in your plan
Determine which Tax Bucket to draw income from first to potentially reduce your tax burden over the long-term
Discuss ways to leverage qualified money to leave tax-free dollars to your family
Health Care Planning
We will create a plan to help you address rising healthcare costs with a minimum of expense including:
Looking at all aspects of Medicare parts A, B and D
Evaluating and presenting you with potential options when it comes to Medicare supplemental plans
Creating a strategy to address the devastating cost of long-term care health expenses
Legacy Planning
It's important to ensure that your hard earned assets go to your beneficiaries in the most tax efficient manner.  This would also include your surviving spouse.  By working collaboratively with a qualified estate planning attorney, our goal will be to help you:
Maximize your estate and income planning opportunities
Protect any assets in trust and ensure they are distributed to your beneficiaries probate free
Prevent your IRA and qualified accounts from becoming fully taxable to your beneficiaries upon death
Cyber and Identity Protection Planning
In today's technology-based world, it's more important than ever to protect your private data and your family's personal information.  By following our step-by-step system, you can help to better protect your family's personal and private information.